Soy Exports Power the Industry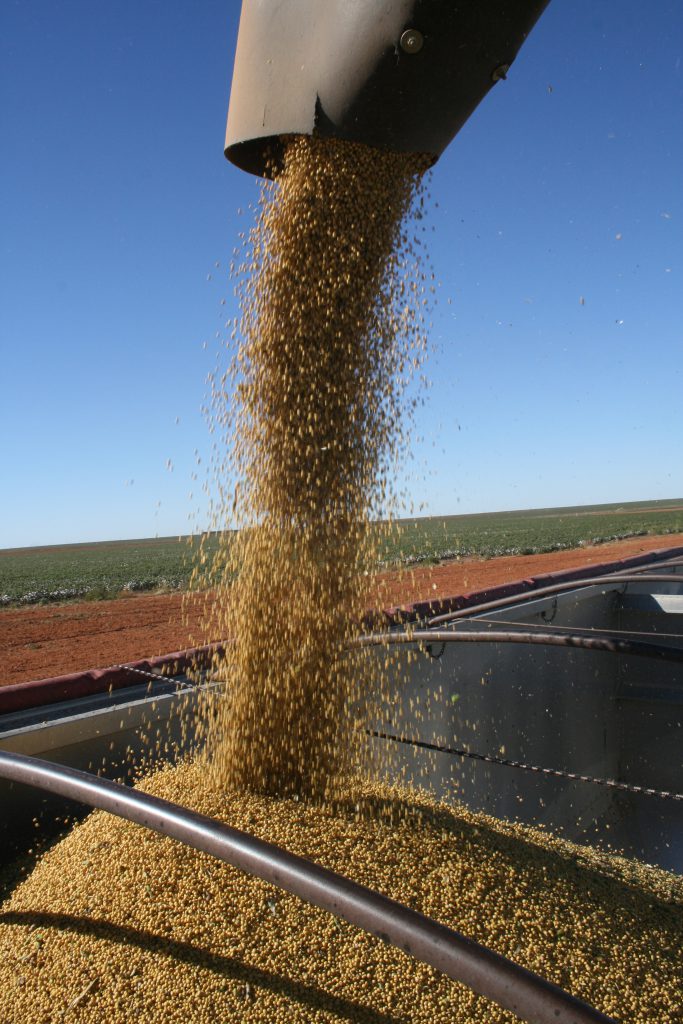 Soybeans are the most valuable agricultural commodity exported from the United States, accounting for more than $28 billion in export value in 2017. This is according to an international marketing strategy prepared for the United Soybean Board (USB) and Qualified State Soybean Boards (QSSBs).
Exports also accounted for more than 60 percent of U.S. soybean production last year, making them key to growing the industry's profitability. And soy exports continue to trend upward for the foreseeable future, which is why USB earmarked $27 million for international marketing in 2018.
This year, soybean plantings also are projected to surpass corn, reaching an estimated record crop of 89 million acres. This is where the U.S. Soybean Export Council (USSEC) goes to work to continue to grow the international market for U.S. soybeans. The group does so by advocating for the use of U.S. soy in feed, aquaculture and human consumption, and promotes the benefits of using soy through education programs.
The American Soybean Association's (ASA's) World Initiative for Soy in Human Health (WISHH) complements the work of the USSEC by exploring smaller, immature markets to promote the import of U.S. soy for human and animal diets in developing countries.
International marketing strategy
What is known as the "international marketing strategy" was commissioned by USB and created by a firm called Context in 2017 to research the top target global soy markets and how to best prioritize them. The report noted that U.S. soybeans are exported to more than 100 markets, so focusing on high-priority markets will offer the best options for continued profitability.
The study comprised two phases, with phase one happening in July and August 2017 and including about 90 market interviews about the needs and opportunities in the international soy market. The market opportunity assessment scored 232 markets, prioritizing 39 of them.
The second phase occurred from July through October 2017 and included a series of 20 workshops and one-on-one sessions that captured more than 80 stakeholders' input on priority markets.
Markets were divided into four categories:
Immature (Ethiopia, Liberia),
Basic "open" (Pakistan, India),
Expansion "grow" (China, Mexico)
Mature "maintain" (European Union, Japan, South Korea).
The study found 98 percent of U.S. soybean exports go to basic, expansion or mature markets, and 93 percent of U.S. soy trade value is in expansion and mature markets.
The report suggested a revised international marketing strategy that shifts more funding for investment into new (basic) markets with increasing emphasis on growing demand in areas currently with low consumption.
USSEC prepared a summary of the report for QSSBs that states, "If the U.S. soy industry could close existing gaps in this per capita consumption growth by 50 percent, that would provide an additional $10 billion in export opportunity annually."
The strategy then for current basic markets is to introduce world-class technology, while the focus in expansion markets will be to create a preference for U.S. soy. Finally, for mature markets, the plan is to focus on overcoming policy issues such as biotechnology concerns.
"In all markets, the competitive advantage of the great U.S. sustainability story provides a marketing point of difference. Dividing markets in this manner is a fresh, innovative way to think about international marketing," according to the USSEC summary.
The revised strategy will focus on the areas of animal, aquaculture, human and sustainability to drive the programs in priority markets.
Jim Sutter, CEO of USSEC, said the international marketing strategy is focusing more on basic markets because consumption of soy in these countries is currently low, their income levels are rising and they typically have larger populations.
"This is the 'figuring it out' year for the international marketing strategy to decide what to do in each of the current basic markets," Sutter said. "Then we need to ask how we gradually scale back activities in mature markets, including less training for those who already know what they're doing."
Sutter pointed out that strategic development of immature markets will continue to be the responsibility of WISHH.
"WISHH will prepare these markets to become basic markets, which is when USSEC will take the handoff and prepare them with training," he said.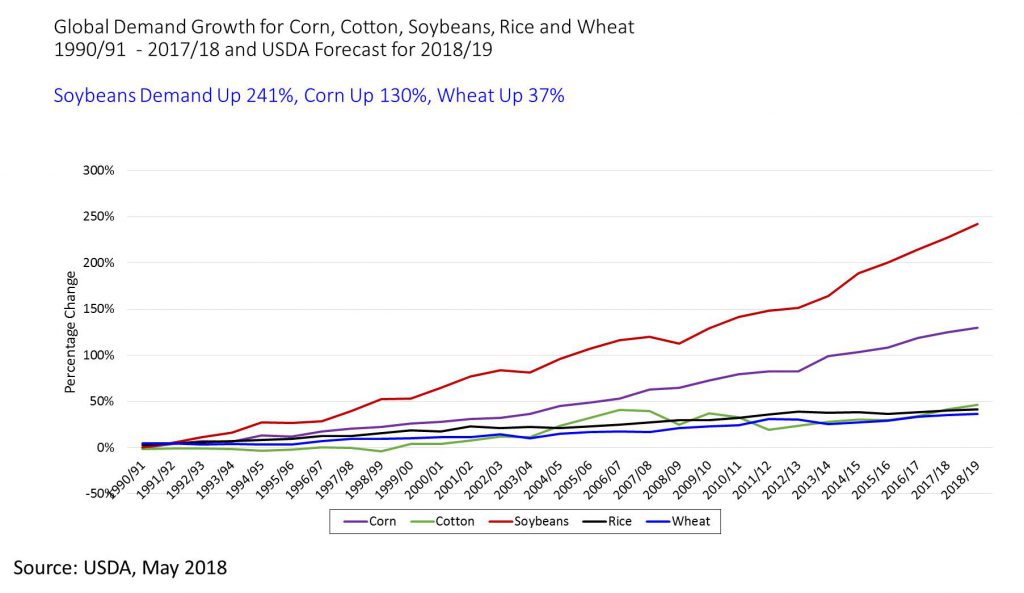 WISHH's role in developing markets
Jim Hershey, executive director of ASA's WISHH, said the QSSBs started WISHH almost 20 years ago to develop demand for U.S. soy in smaller or, as yet, non-existent immature markets.
So far, WISHH has worked with private- and public-sector organizations in 23 developing countries in Africa, Asia and Central America, training people how to use soy for economic and nutritional advantages.
According to Hershey, for every checkoff dollar farmers contribute to the organization, WISHH gets another $6 from the U.S. Department of Agriculture (USDA) and other groups to support its efforts.
Hershey said WISHH uses a strategy called "trade and development" in immature markets. For example, Ghana is a new market WISHH has started to explore.
"Our main project in Ghana, with a budget of $15 million, will last five years. We will help the poultry and feed industry there become more efficient by using soy more effectively," Hershey said. "They cannot grow enough soy to keep up with demand. So, we help develop markets to get demand to the point where they need imports to meet the demand. This is happening this year."
Cambodia is another market WISHH has been involved in the past two years. Hershey said even though the country is smaller than its neighbors Vietnam and Thailand, it's already relatively sophisticated in its soy use for animal feed.
The Cambodian government is interested in creating an aquaculture business big enough to raise the country's own fish; one feed mill is nearing completion of a new aquaculture feed factory.
When WISHH first arrived in the country, it sent a feed milling technician from the Northern Crops Institute at North Dakota State University in Fargo. Containers of whole U.S. soybeans were imported to demonstrate milling techniques and now, feeding demonstrations are being performed using soymeal for poultry and swine.
"We're showing them that good soy-based feed will get the animals ready for market faster than their previous antiquated methods," Hershey said.
The Northern Crops Institute also has hosted representatives from other countries in North Dakota who are interested in learning more about using soy for feed, he added.
"As the soy industry looks to realign its international marketing strategies based on population and economic growth, there are some immature markets with lots of room to grow," Hershey said.
Lessons learned from China
Hershey said China is the best example of why it's important to invest long-term in markets. The U.S. started working to promote soy in China in the early 1980s, he said, and it took more than 10 years before China began importing soy in limited quantities.
"Now more than half of U.S. soy exports and more than a quarter of U.S. production are exported to China," Hershey said.
John Baize, market analyst for USSEC, backed this fact up with the statistics.
"For 2018-19 starting Sept. 1, China is projected to import 103 million metric tons of soybeans," he said.
Furthermore, USDA projects China will import 143 million metric tons in 2027-28.
Baize said China has become the largest importer of soybeans and has steadily increased its imports because its large population has a rising per-capita income, which historically has led to people including more meat in their diets.
"When people move beyond an annual income of $1,000 to $2,000, they are still poor but can afford some meat in their diets, like chicken to go with their vegetables, rice and beans," he said.
And to farm-raise these pork and chicken products, China needs more soymeal.
The country also consumes a large quantity of soybean oil—this year, China will consume 17.3 million metric tons of soyoil, Baize said, which is used almost exclusively for cooking.
What lies ahead?
The future for U.S. soybeans and the market for exports look extremely bright, Baize said.
Biotechnology has led to soy crops with higher and quicker yields; better seeds, fertilizer and fungicides combined with higher prices at market have helped the U.S. soy industry continue to grow.
And even though Brazil projects to pass the U.S. in soybean production in the coming year or so at 119 million metric tons versus 118 million metric tons, respectively, Baize said the international market has plenty of territory to share.
Last year, the U.S. produced its biggest soybean crop to date at 4.39 billion bushels, and a plan is in place for the country to produce 5 billion bushels in the next five years, Baize said.
As for the future of U.S. soy exports, Baize said Southeast Asia looks like a ripe market.
"Vietnam, Indonesia, Thailand and the Philippines all have good population growth and rising per capita income," he said. "I see good growth potential in the Middle East, as well, but not as good as in Asia."
According to USSEC's 2017 Annual Report, Indonesia, the Philippines and Vietnam are three of the top producers of aquaculture in the world, with Myanmar and Thailand in the top eight and Malaysia rounding out the top 12. This bodes well for promoting U.S. soy for feed.
During the season prior to the 2017 report, more than 275 million bushels of U.S. soybeans and its equivalent were exported and consumed in Southeast Asia.
Interestingly, Baize said Russia also is a good growth market for soy exports but current sanctions prevent the U.S. from shipping product to the country.
Sutter said he's quite optimistic about the next five years for U.S. soy in the global economy.
He repeated the theme, that as people gain disposable income, they start eating better food including protein that can be fed with soymeal.
As for soybean oil, Sutter said it traditionally also becomes more popular in a market as that country's economy grows and develops.
"USSEC's shift in focus to more basic markets can over time capture a good share of the international markets for U.S. soy and these markets will grow faster with USSEC involved," he said.
"Our team will be busy making gradual changes to reach the goals of the soy family with the dollars we invest and we'll continue to grow global demand for U.S. soy in these basic markets."
ASA/WISHH Successfully Grow Pakistan Market
Pakistan has become a major importer of U.S. soybeans, including 630,230 metric tons during the 2017 marketing year. This is a substantial achievement considering the country wasn't importing soybeans from the U.S. just five years ago.
The success of U.S. soybeans imports in the Pakistan market is due to a number of factors, and thanks in no small part to the work of the American Soybean Association (ASA) and its World Initiative for Soy in Human Health (WISHH) program.
ASA/WISHH developed this emerging market through funding including from the soybean checkoff program and the U.S. Department of Agriculture's (USDA) Office of Capacity Building and Development.
According to the U.S. Soybean Export Council's (USSEC's) 2017 Annual Report, Pakistan transitioned from an ASA/WISHH immature market to a USSEC basic market in 2017.
This fifth-most-populous nation in the world (around 212 million in 2017) has a GDP of about $304 billion.
In addition to U.S. marketing efforts, the sharp spike in U.S. soybean imports in Pakistan was caused by a handful of market factors. These included changes in the Pakistani tariff structure, a decrease in Indian soybean meal exports, a strong Pakistani economy and sustained growth in the poultry sector alongside dairy cattle production.
As of 2017, poultry production in Pakistan consumed about 90 percent of soybean imports, with livestock accounting for about 9 percent. Aquaculture in the country contributes a small amount to increased demand for U.S. soybeans with the introduction of soy-based aquaculture feed and modern production techniques.
ASA/WISHH attributes recent success in Pakistan to the U.S. being able to offer a consistent soybean supply for the poultry, livestock and aquaculture sectors and through education.
"Through technical service, regional seminars and trade servicing, Pakistani (soybean) crushers are better understanding the extrinsic and intrinsic values of U.S. soybeans," a WISHH report states." For over 15 years, the U.S. soy family has remained committed to market growth in Pakistan, highlighting the need for long-term market development strategies in emerging markets. As this now qualifies as a basic market, USSEC is accelerating that growth."