ASA Podcasts
PodTalk: Biotech Helps Soy Farmers Grow More with Less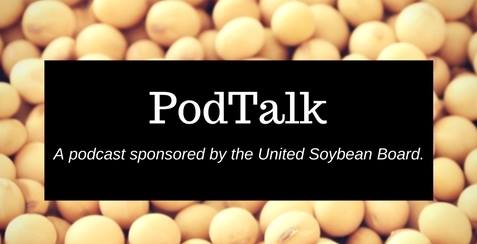 The science of agriculture is evolving at an incredible pace.The more we learn about what makes a soybean tick, the better we become at developing genetics and traits that lead to even better soybeans.
In this PodTalk, we're going to find out about the importance and impact of biotechnology in the soybean industry—and how biotechnology is helping soybean farmers grow more crops while using fewer resources.
PodTalk: Checkoff Strengthens Soy Industry, Brings Value to Farmers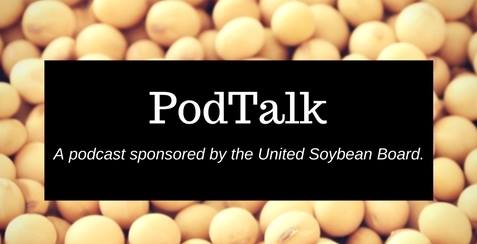 Established in 1991, the soybean checkoff was designed to build demand, find new markets, and improve the profitability prospects for every soybean farmer.
In this PodTalk, we're going to find out about the important role of the soy checkoff in strengthening the soybean industry and bringing value to U.S. soybean farmers.
PodTalk: U.S. Soy Growers Provide Sustainability Assurance to Buyers Worldwide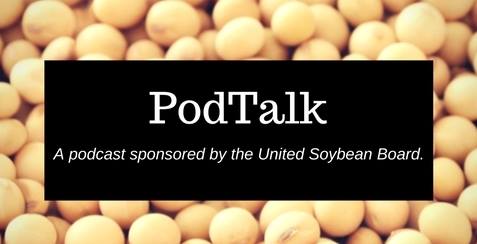 "Sustainability" is the watchword in agriculture today—and that concept, regardless of how you define it, has become a central topic of conversation, especially when it comes to working with international customers for U.S. soybeans.
In this PodTalk we're going to discuss how U.S. soybean farmers and their checkoff are working to not only improve sustainability on American soybean farms—but offer proof of that sustainability to customers around the world.
PodTalk: Improving Protein Quality is Vital to U.S. Soy's #1 Customer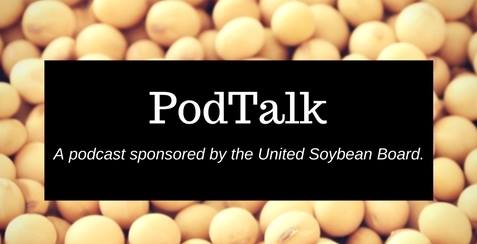 While many farmers focus on increasing the volume of soybeans they produce, the value of the meal and oil in those beans is even more important. But in recent years, the crude protein levels in soybean meal produced in the U.S. have been on a steady decline—and that has given other feed sources an opening with livestock producers.
In this PodTalk, we explore the importance of animal agriculture to U.S. soybean farmers—and the need to improve and capture the value of the soybean meal that is fed to those animals both domestically and around the world.
PodTalk is a podcast sponsored by the United Soybean Board. 
PodTalk: New High Oleic Varieties Promise Strengthened Soybean Demand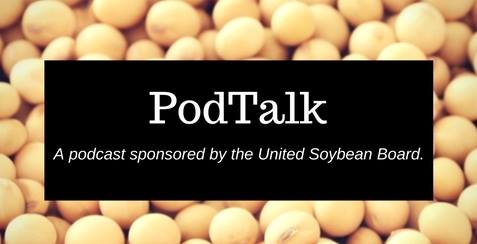 A lot of attention has been paid to the quality of the protein in soybean meal—and that continues to be of utmost importance to the competitiveness of U.S. soybean meal globally.  However, about 20 percent of the bean is comprised of oil.  But that one-fifth of a bean comprises about one-third of the price a farmer gets for that bean.
In this PodTalk we explore the development of high oleic soybeans—and their potential for increasing soybean demand and improving the profitability of U.S. soybean producers.
PodTalk is a podcast sponsored by the United Soybean Board. 
Illinois Builds Global Demand for Soybeans
Not only is Illinois the leading soybean-producing state in America, it's also the fourth largest soybean country in the entire world, producing nearly 600 million bushels of beans on more than 10 million acres in 2017.
Roughly 60 percent of those beans, with an estimated value of nearly $3 billion dollars, are destined for export markets, with one out of every three rows going to our biggest soybean customer, China.
In this episode of ILSoyAdvisor.com Profitability Radio, we speak with ISA Trade Teams Lead David Headley about ISA's effort to build global demand for Illinois soybeans.
Headley discusses ISA trade team efforts, including why Illinois beans are so prized in the global marketplace. Listen to the full report below:
David Headley is currently the Trade Team Lead at Illinois Soybean Association where he assists with new initiatives to strengthen worldwide market access and trade consolidations through international delegation visits to Illinois.
Throughout his career David has traveled to more than 70 countries analyzing and assessing a complex global agriculture supply chain.
David is a published author of several papers, articles and Op-Ed's including being featured in Wall Street Journal. He holds a BS in Agriculture from North Carolina State University and MBA in International Business from University of Illinois.
PodTalk: Innovation Beyond the Bushel
To many soybean farmers, the most important metric is yield—bushels per acre. And that is a critical factor of a soybean farmer's profitability. But it's no longer just about the quantity of soybeans. The compositional quality of the protein and oil components in those beans holds significant value.
In this PodTalk we're going to find out about the need to improve the compositional quality of the protein and the oil in U.S. soybeans in order to meet end-user demands and maintain market share.
PodTalk is a podcast sponsored by the United Soybean Board. 
Fungicide Timing and Use in Production
Managing soybean diseases starts with knowing what to look for locally.
In this latest podcast, Beck's Hybrids agronomist Chad Kalaher talks about soybean diseases that are common in Illinois and how to employ proper fungicide management.
In all of Illinois Septoria brown spot is tagged as the number 2 yield robber in soybeans. It progresses from the bottom of the plant and is a disease that soybean farmers should look out for. In addition, northern Illinois farmers should watch for white mold, while Southern Illinois farmers should watch for frogeye leaf spot.
It's important to note that not all diseases come from fungi, but can instead be from bacteria and viruses. For example, soybean vein necrosis virus would not be controlled with a fungicide.
Kalaher notes that in choosing which fungicide to use, it's important to be cognizant of rotating modes of action to avoid resistance.
"I liken it to herbicides," Kalaher notes. "We need to use the proper chemistry."
The timing and mixes of applications will depend on which diseases farmers are dealing with. If there are macro and micronutrient deficiencies, farmers may be able to address those at the same time as their fungicide application.
When it comes to foliar feeding, there are many great resources that focus on which nutrients plants can still utilize. Kalaher gives some resources that soybean farmers can use and who to contact if they are looking into this management tool.
Chad Kalaher is a CCA soy envoy for East Central Illinois. He is also an agronomist for Beck's Hybrids. He has a bachelor's degree in agronomy from the University of Illinois and a master's degree in weed science from North Carolina State University.