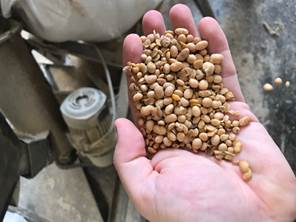 ASA/WISHH Africa Regional Consultant Josh Neiderman traveled to Ghana to meet with stakeholders involved in market development activities in early November. Neiderman visited the supply chain partner Yedent Agro Enterprises Ltd., a recent recipient of a Quality Samples Program container of U.S. value added soybean products and buyer of U.S. whole soybeans under U.S. government monetization.
Yedent will commission a new Insta Pro extrusion line in December, with the aim of producing textured soy protein t from imported U.S. defatted soyflour. Yedent has signed an MOU with the Government of Ghana to provide the product to the Ghana National School Feeding Program as well as making the product available commercially on the local market.
This program allows trade in U.S. soybeans to grow in local sub-Saharan African markets by providing high quality raw ingredients for local value addition.
Yedent also recently began processing whole soybeans acquired under a US government monetization program to Ghana in support of AMPLIFIES Ghana. The commercial transaction led to the shipment of 6,000 MT of whole soybeans of which Yedent was a partial buyer. The whole beans are being processed for crude soybean oil and full fat extruded soybean meal for the local poultry industry.
Tags:
Africa
,
American Soybean Association
,
ASA
,
Ghana
,
soybeans
,
WISHH
,
World Initiative for Soy in Human Health