Soy growers from across the country headed to Capitol Hill this week to meet with members of Congress and discuss issues impacting the soybean industry.
Priority issues for American Soybean Association (ASA) board members included the farm bill, biodiesel and, most critical the week after U.S. beans were hit by China with a 25 percent retaliatory tariff, rapidly escalating trade conflicts with China and related consequences for soybean growers.
Trade: After months of asking the Trump Administration to find non-tariff solutions, the Administration's Section 301 tariffs went into effect July 6, triggering an in-kind retaliation from China, which includes a 25 percent tariff on U.S. soybeans. The price of soybeans continues to trend downward, with grower concerns mounting. ASA is urging the Administration to rescind the tariffs and is reiterating its request for the White House to work toward a negotiated solution to Section 301 concerns that does not include tariffs.
Farm Bill: Soy growers continue to urge lawmakers to pass a farm bill before it expires in September. This safety net is even more important as they face rocky trade relations in an already down-turned farm economy.
Biodiesel: Farmer leaders emphasized the need for an extension of the biodiesel tax credit for 2018 while a longer-term policy is developed.
See more from the ASA Board of Directors meeting and Hill visits this week:
Follow #SoyLeaders #FacesOfTariffs #TradeNotTariffs #RescindTheTariffs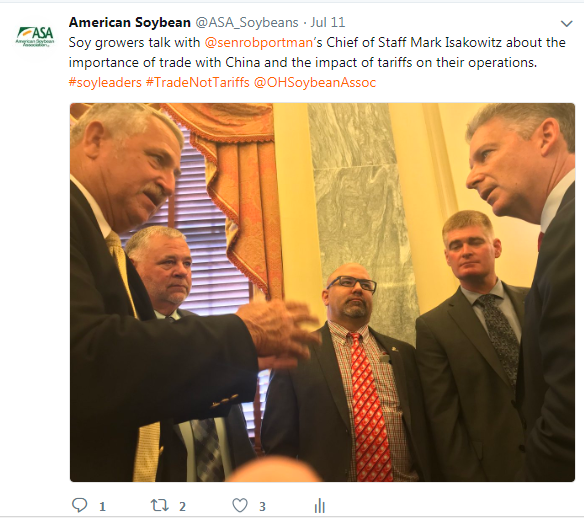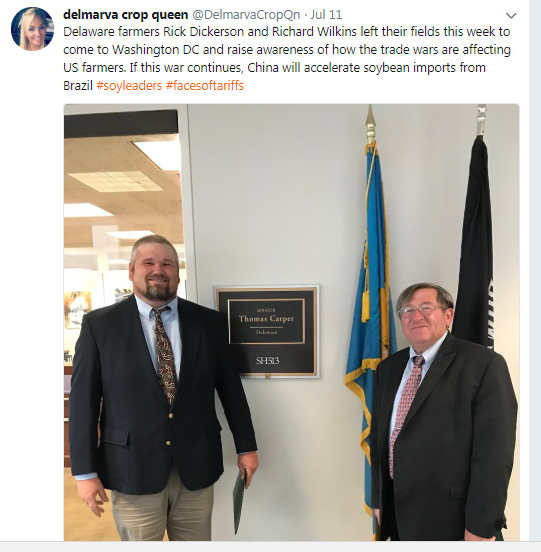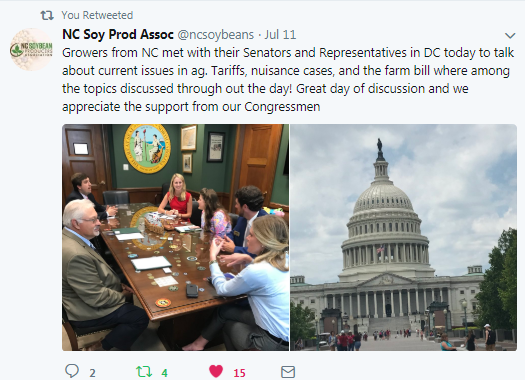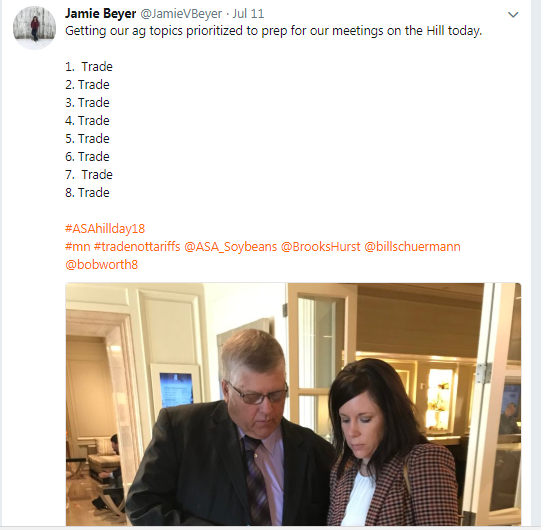 Tags:
American Soybean Association
,
ASA
,
Biodiesel
,
Board Meeting
,
Capitol Hill
,
Farm Bill
,
soybeans
,
Tariffs
,
Trade